Latest Book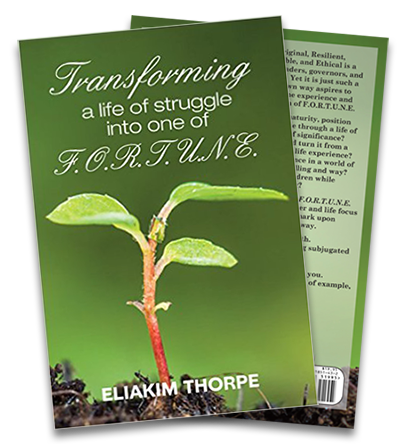 Book bullet points are as follows:
• Learn how to be an architect of a new life path.
• Enjoy the benefits of prosperity without being subjugated by it.
• Explore the depths of your soul.
• Rediscover the life mission you were created for.
• Empower yourself to become an authentic man of virtue, vision, and valor.
• Become a man of significance and live a life of F.O.R.T.U.N.E.



To be thought of as Fearless, Original, Resilient, Trustworthy, Uncompromising, Noble, and Ethical is a description that eludes most of the leaders, governors, and power-broking men of today's world. Yet it is just such a description that each of us in our own way aspires to embody. Eliakim Thorpe provides the experience and insight for each of us to become a man of F.O.R.T.U.N.E.
Transforming A Life of Struggle into One of F.O.R.T.U.N.E. is the blueprint for every man to build a life of purpose and character so that a significant impact and mark upon society can be left in a powerful and profound way.

Eliakim is also a Leadership Culture Expert and speaks on:
The T.H.R.I.V.I.N.G. Leader: 8 Building Blocks to Developing Strong Leadership at Every Level in Your Organization
Building the F.O.R.T.U.N.E. 500 Leader: The 7 Result Accelerators for Leadership Success
The 4 Pillars of A Successful Entrepreneur
Eliakim Thorpe is a highly sought-after speaker, serial entrepreneur, nationally-acclaimed leadership culture expert, author, and a leading authority on organizational transformation known for his highly-valuable content, designed to take leaders to the next level of every organization with "immediately-applicable" tools for maximum leadership success. Eliakim helps CEO's, Executives, and business leaders install, implement, and execute a leadership culture strategy to develop effective, productive, and efficient teams- now more than ever in a competitive global economy. Eliakim is also a thought-leader and published columnist who's been seen, quoted and featured in multiple media platforms as an expert sharing his proven leadership methodology.